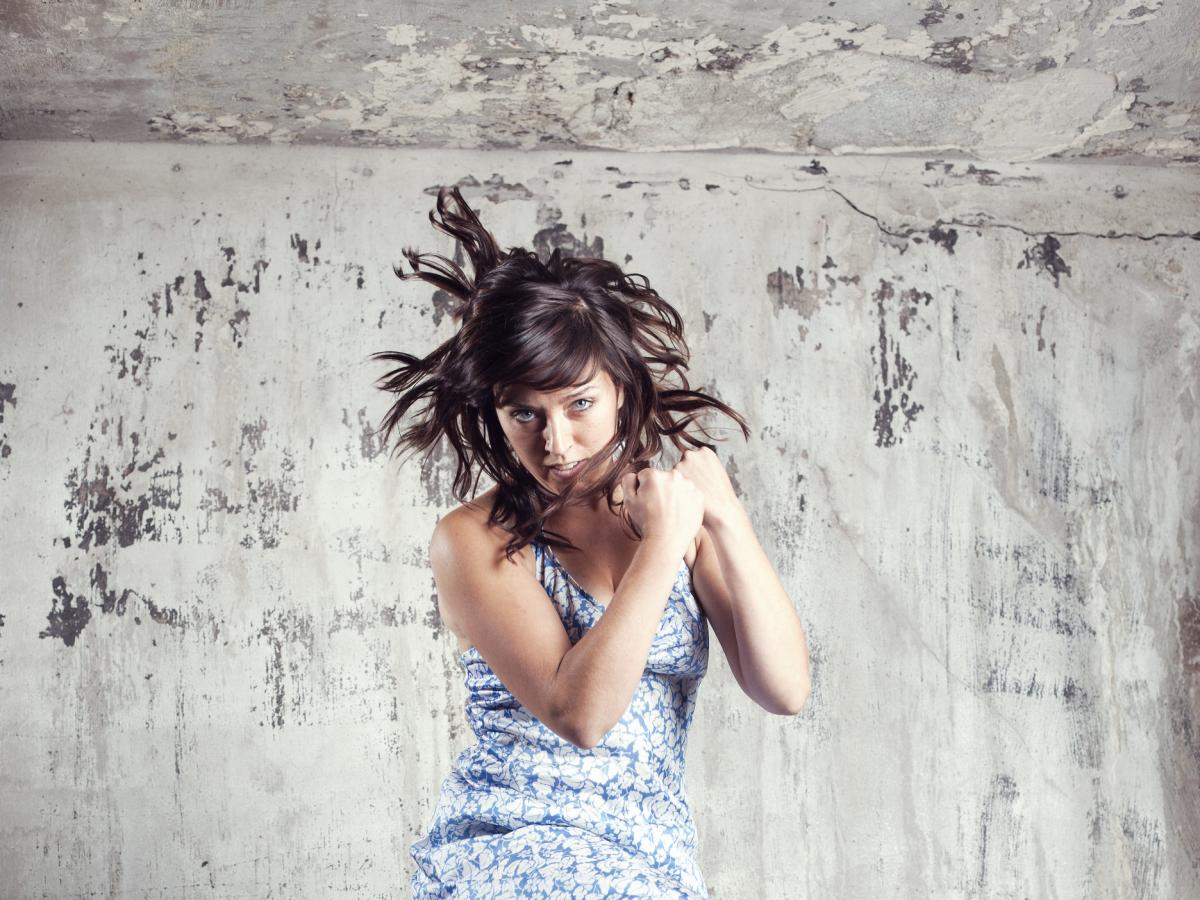 Laura Neyskens
Laura Neyskens first performed on stage at the age of 11 in Bernadetje (1996), a theatre performance by Arne Sierens and Alain Platel. Later she played in Mouchette (1998), Allemaal Indiaan (2001) and Platel's famous dance performance Iets op Bach (1998). There she met the young dancer Sidi Larbi Cherkaoui. This meeting resulted in many years of collaboration. She danced in Cherkaoui's debut Rien de Rien (2000) and performed in Foi (2003) and Myth (2007). She danced and sang in the musical Adams Appels (2009) of the theatre company Olympique Dramatique, for which she also assisted Cherkaoui in the choreography.
Laura participated as a dancer in the Oscar nominated film Anna Karenina (2012) by Joe Wright, starring Keira Knightley and Jude Law. In 2014 she premiered in De Bijloke with the piece Asobi (2014) conducted by Kaori Ito, a production by Les Ballets C de la B in collaboration with the famous Spectra Ensemble. In La Scala of Milan she was rehearsal director and dancer in the four-part opera cycle Der Ring des Nibelungen (2010-2019), directed by Guy Cassiers, with a choreography by Sidi Larbi Cherkaoui and directed by none other than Daniel Barenboim.
Laura is also part of the hard core of La Guardia Flamenca, a company that deals creatively with the flamenco genre. For ten years they made the streets unsafe with street theatre performances like Anda La Banda (2005) and Carrément Carmen (2008). Club Flamingo (2012) became their first cabaretesque 'indoor' performance, followed by Vagamundo (2019), a performance that competes with South American influences on flamenco dance through migration.
In 2015 Laura co-founded the dance collective Bollylicious, with which she wants to take Indian dance to a higher international level. The dancers of the collective perform Indian traditional and popular dances in an accessible, varied and original way, without losing the individuality of the dance. In addition to their regular activities in the Benelux, where they tour with the two productions Bombay Express (2015) and Sitara (2017), they have already performed at the Battery Dance Festival in New York (2017).
Bollylicious tours regularly in India, where they have already been praised by Bollywood legends Amitabh Bacchan (2018) and Vyjayanthimala Bali (2018), but also by Maharja Gaj Singh Ji (2016) and our own royal couple King Philippe and Queen Mathilde during their state visit to India (2017).
During Gent Bougement Laura performed her own work for the first time on stage with her duet Meer-Min (2015). At the Ghent Light Festival she was asked to choreograph and dance for the impressive art installation The Gift (2018) in a concept by Kris Goubert and Fish Eye.
For the conclusion of the four-year commemoration of WOI, she choreographed at the request of composer Steven Prengels for the closing show Peace to the World Concert (2018), where she and her collective, Bollylicious, mixed Indian dance and contemporary dance to the tones of a wind orchestra.
Laura first worked with theatre-maker Chokri Ben Chikha and his theatre and performance group Action Zoo Humain on the project Artistes Sans Frontières/Artists Without Borders (2017/2018) in Tunisia, following the theatre performance Join The Revolution. Later she also participated in the artistic intervention of the company on the occasion of the 200th anniversary of Ghent University in 2017. In the autumn of 2018 Laura again collaborated with Chokri for AMNE(I)S(T)IA: Say Sorry (2018), a dance theatre performance by alumni of the Institut del Teatre in Barcelona. Laura did the choreography for the play. The performance premiered in November 2018 in Theater Sala Beckett in Barcelona and was performed at the renowned Temporada Alta festival in Girona. In 2019 the piece will be performed in Ghent (NTGent) and Rotterdam (Theater Rotterdam).